It's time to plunge in and live the virtual life fully 
---
I work out regularly. And my diet has ensured decent results on weight loss and body fat composition. Sometime during the COVID Zoom Session with friends, someone mooted the idea of me doing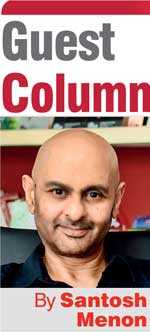 sessions for them. And I said yes let's do it. So, I started Gymsutra, a totally non-commercial, daily workout session for friends only. I started it on a whim. And 8-10 friends joined in. Three months on, it's become quite a great success – in terms of results for my friends and the fun this has been for me.
We started with doing six exercises in an hour. Simple body weight stuff for an hour. Now we do up to 21 exercises in an hour. Many of my friends have shed weight, others have become more mobile and stronger. And each and every one of these sessions are being done virtually on zoom. I have had 'virtually' no interaction with them face to face. Yet the virtual experience has created real results for my friends and me.
My aunt stays alone in India. Her only daughter has been in the USA for the last couple of years. When I visited her after her daughter left she was a bit sad but soon she started Skyping and was regularly in touch with her daughter. One interesting incident which happened was the daughter wanted to make lentil curry (she did not learn to while in India) and sought to learn it step by step on Skype. One year later when the daughter came back for a holiday, I asked aunty how it feels to have the daughter at home? Surely, I said it must be amazing. My aunt was happy she said and thought about it a little and said but you know we spend more quality time together when she is not here. There she spends time only with me. When she is here there are so many things needing her attention. I realised the import of what she was saying. She was not complaining about her daughter not giving her sufficient attention while she was in India. She had started living the virtual life as real and was enjoying it completely. 
During these COVID days, we have a group of local friends and we meet fairly regularly on zoom. The games we have played together include pictionary, dumb charades and jumbling words and guessing the right words, etc. Recently we got on FaceApp and got the female versions of all the guys and male versions of all the girls. As is often felt the male versions of the girls looked very similar to their own sons and the female version of the guys resembled their daughters in some cases. Point is we have been socialising in the real world for years but in the last three months we have recognised hidden talents of our friends and many of their deep-seated characteristics much more than before. The virtual world which we all now cohabit has generated deeper insights about one another than did the real world. 
As an agency team, we are bonding like never before on our WhatsApp group. Someone from the team posted a video of herself doing a kathak dance. People were amazed at the quality of the dance. Over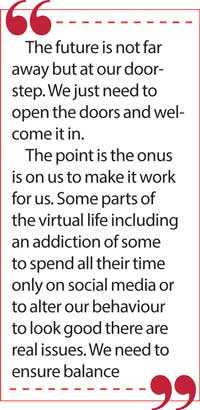 time we have discovered singers, pianists, a guitar player and awesome talents hitherto unknown. Clear personalities are emerging – the serious data and analysis provider, the local content sharer, the international news expert, the industry gossip one. While they reflect their own individual personalities, the whole team has visibility to individuals and their unique skills and abilities. Pre-COVID these people were seen and recognised in the silos of their own teams. Now everyone is privy to one another's skills, talents and quirks. The WhatsApp group interactions have unravelled personalities and created more intimacy in our office teams.
Deepak Chopra, an American alternative medicine guru cum author narrates a wonderful story about his five-year-old grandson who once asked him profound questions about matter, space and the universe. Deepak Chopra was stunned. And due to his own Indian origins, he started thinking the boy must be a reincarnation of someone great. Deepak then asked him, "Who taught you all these things?" And the boy said, "Oh. I learnt it on Pokémon." Online and virtual games are a rage among the youth nowadays. Many older folk lament the non-existence of childhood games (as it was for the older folk) among today's kids yet the fact is today's children are exposed and happy to thrive in the virtual universe of games and the excitement of a fast internet. 
I have always had a fascination for the sky and the stars. As a school kid, I would read Carl Sagan and books related to the cosmos and look up at the night sky and wonder about its many secrets. I would wonder about constellations and never figured out how to observe them or recognise them. But recently an app called star walk opened up the night sky for me. All I need to now do when I travel up to Knuckles or Yala on a clear night is to point upwards with my phone and the stars suddenly fall into place. The magical constellations and their stories are there for anyone to read and reflect on. The virtual and real world interface to add serious excitement in one's life. 
But there are no better examples of this virtual and real world coming together than in the world of gaming. AI, a very fast internet and the incredible imagination of software wizards and amazing hardware that now enables highly immersive experiences where the real world and virtual world coalesce together to create virtual reality and recently, even hyper reality. Where the real physical space as we know it – our own backyards are places where donning augmented reality optics or phones one can play immersive games. A recent race that got half of humanity playing was 'Pokémon Go'. Collecting virtual Pokémon's from one's own backyard for points became a massive rage- a true experience of two disparate worlds – virtual and real coming together to create a new reality. 
Travel to and inhabiting other planets other than earth is not going to be a reality in the foreseeable future but virtually experiencing that in a hyper reality game right here on earth is going to be easily possible in the next few years. Great scientists and visionaries such as Carl Sagan and Arthur C. Clarke would have loved this opportunity that mankind has – to experience new realities very different from one's own and living it fully thanks to new emerging virtual technologies. 
These have the potential to make distances disappear, get people closer to one another, bring about great sensitivity to our interdependence as fellow human beings. Indeed, bring the entire spectre of the universe and its interdependence home to all of us in a realistic and palpable way. The future is not far away but at our doorstep. We just need to open the doors and welcome it in.
The point is the onus is on us to make it work for us. Some parts of the virtual life including an addiction of some to spend all their time only on social media or to alter our behaviour to look good there are real issues. We need to ensure balance. 
I for one regularly 'detox' from social media to prevent being enticed entirely by the endorphin generating like culture. Each one of us can come up with our own strategies to enjoy the vast benefits of taking the plunge, while we protect ourselves from the bad stuff. Even when one goes out into the physical world we need to be prepared to enjoy the world while protecting ourselves from the bad. We don't let the negativity make us stay at home. In the same way, it's time to plunge in and live the virtual life fully! 
(Santosh Menon is a marketing communications expert with 20 years of experience in multi-national locations. He can be reached at santosh@kl.lk.)